Coffee connoisseurs know that getting great tasting espresso or other coffee shop drinks can become very expensive. Like most people, I'm on a budget. I want to be able to enjoy my favorite drinks while not breaking the bank. I needed to find the Best coffee maker under 100 dollars for my home.
These three machines offer the best value at this price point. Each one has pluses and possible minuses. Each one is well made. With the right care, each machine will give its owner many years worth of delicious coffee espresso. Each machine would also make a great gift. Let's take a look at these machines.
Three of the Best Espresso Machines under 100 Dollars
Mr. Coffee ECM160 4-Cup Steam Espresso Machine
Glass
Steam
8 x 6.5 x 10.5 inches
7 pounds
Black/Silver
Nespresso Inissia Espresso Maker
Plastic (Material)
Semi-Automatic
12.6 x 4.7 x 9 inches
5.3 pounds
Black, White, Red, Silver, Pacific Blue, Titan (Color)
Mr. Coffee ECMP50 Espresso / Cappuccino Maker
Aluminum
Steam
11.4 x 13.7 x 13 inches
1.2 pounds
Black
Nespresso Inissia Espresso Maker in Black
This great little machine measures 12.6 inches tall by 4.7 inches wide and 9 inches deep. It weighs a little more than five pounds. It has a sleek-looking black plastic body with silver accents. It comes in many other colors to fit nearly any décor.
This little machine has a lot to offer. One of my favorite things about it that it has no warm-up time. It makes getting up with your first cup so much easier! All you have to do turn it on and pick your beverage. It comes with a typically limited warranty.
Features:
Uses Nespresso Capsules. These are easy to insert and remove. The brewery even has a used capsule container that holds up to 11 capsules.
Very energy-efficient. It has a Class A energy rating with an auto shut off after nine minutes.
Has a Compact Brewing Unit. Very fast preheat time of 25 seconds. It has a 19 high-bar pressure pump.
Removable 24 ounce water tank.
Adjustable, can use tall or short glasses.
Two programmable buttons for lungo or espresso.
Customer Reviews
Reg Maudling
"I discovered this machine while staying in a hotel in England that offered them in all their rooms. Buying one was confusing since the same machine has been variously branded Krupps, Nespresso and De'Longhi. Having bought and used the De'Longhi I can find no difference between it and the Krupps that I used in the hotel.
The machine is attractive, compact, well-constructed and very easy to use. The capsule system means that there is nothing to clean but the cage that catches the used capsules and the drip tray.
I have tried most of the Nespresso varieties of capsules as well as ones produced by an independent premium brand. They all produce coffee with a decent layer of crema. Blindfolded, I doubt I could distinguish a cup from this machine using a premium capsule from one produced by a hulking machine costing thousands of dollars."
Ian Hearn
"I love all Nespresso machines. It is simply miles above the quality of the drip crap, which is much messier and takes forever – who has that time?
Among the Nespresso machines I've used in hotels, our prior one that lasts 3 years and the two in my offices, this one is definitely (1) a little more intricate to get the pod into the right spot and closed every time. 80%, not a problem and then there's the odd pod that just gets stuck and needs adjusting. I've been annoyed twice from 80 uses. The other consideration is the cup you use. Our usual cups are too high, so we flip the black lid up but then the mugs don't sit flush enough against the machine to collect the coffee. I have resorted to using our Christmas cups – which are a particular shape where the diameter increases towards the top so it can angle into the machine.
It is louder, yes, but marginally more than the other machines. The water being at the back means we spill water here and there, rather than take the canister to the sink. Small issue really. I chose this machine for the smaller counter-footprint and neat look, and I'm happy with it and for the cons, still wouldn't want one of the larger machines.
Last bonus. The fact this was under $70 is really insane. I will never have to descale a machine again if they remain at this amazing price point."
The Mr. Coffee ECMP50 Espresso and Cappuccino Maker in Black
This machine is reasonably sized at 11.4 inches tall by 13.7 inches wide and 13 inches deep. It weighs a little over one pound. It comes with a standard one year limited manufacturer warranty. It truly is a kitchen barista.
The ECMP50 features single and double cup Portafilters, complete with a tamping tool to level out your coffee grounds. You can use any grounds you'd like with this machine. It can make full-bodied espresso, creamy cappuccino, and the perfect latte.
Features:
Professional looking black and silver design.
Can brew two single shots at once. Comes complete with both a single shot filter and a double shot filter.
Movable frothing arm to top your drinks with cafe style creamy froth.
15 bar high-pressure pump for the perfect espresso.
Thermal Block heating system for nearly instant brewing speed. One-Touch controls for brewing and steam are easy to use.
The indicator lights are bright and easy to read.
A 40-ounce removable water reservoir is simple to refill or remove.
Customer Says About this Product
Katie Peterson
"Friends bought me this espresso maker back in 2003 and the pump just went out in 2016. I believe I got my moneys worth out of this machine. I just replaced it with the exact same make/model and the new one works just as great. I love being able to make my own lattes in the morning without the coffee shop expense. My friends love this machine so much I've now given it as a gift as well, knowing how well it has worked through the years, I encourage everyone to purchase this machine for their daily espresso/lattes without the high cost."
K. Richter
"Love this little machine! I've never brewed expresso before and was able to do so easily with the provided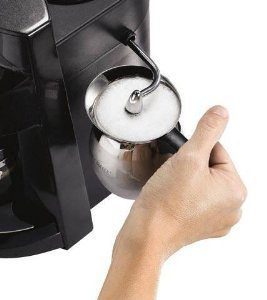 instruction booklet. The step by step instructions is very clear and easy to follow. I have only used this machine for 2 days, so I can't comment on the lifespan or durability of the machine at this time. Butttt as of this very moment, I couldn't be more pleased with this purchase!!
A little tip for anyone other novice barista considering purchasing this espresso machine… Make sure you buy expresso beans already ground up or buy a grinder so you can grind the beans yourself. Also, this set does have a froth/steam option but does not come with a frothing pitcher to the steam milk in. So you might want to toss an espresso bean grinder and frothing pitcher in your shopping cart too."
Mr. Coffee ECM160 Four Cup Steam Espresso Machine in Black
Perfect for the ultimate budget conscious coffee lover, the ECM160 machine makes a great cup of espresso. This is what you want to get if you want to make more than one shot at a time while not spending a fortune. You can make espresso, cappuccino, and latte with this machine. It even has a frothing wand for frothing your milk.
This machine uses steam instead of a pump to brew up coffee. It comes with a four-cup glass carafe with an easy pour handle. The drip catcher is easy to clean and the machine has built-in cord storage. It is a small machine. It measures 8 inches by 6.5 inches by 10.5 inches. It weighs around five pounds. It comes with the standard limited year-long manufacturer warranty.
Features:
Long handled easy pour glass carafe holds up to 20 ounces of espresso. This is great for gatherings and dedicated coffee drinkers.
Conveniently placed frothing arm quickly and easily froths milk for creamy lattes and cappuccino.
Steam heat makes a rich brewed espresso. Steam reaches a pressure of around three bars.
Easy to clean drip tray.
Quiet operation.
Customer Says About this product
Butch
"This is a great little machine for an amateur. It's got a small footprint so it doesn't take up a ton of space in my galley kitchen, and it's shorter than my drip coffee maker, so it fits easily under the cupboard, even with the accessories stored on top of it.
There is a bit of a learning curve in terms of steaming milk, but if you follow the included instructions, it's pretty simple. I was able to make a good cappuccino on the second try (I didn't steam the milk long enough on the first).
One note: The instructions say to start steaming the milk once brewing has begun, but it works better if you wait until brewing is almost finished.
Once you get the hang of it, it doesn't take any more time than brewing drip coffee. As my family knows, I'm a horrible cranky swamp monster until I've had my first cup of coffee, so time is of the essence in the morning! This machine is simple enough to work before I'm fully awake, and the result is worth it.
Definitely worth the small investment, especially if you're a first-timer and aren't sure you want to make the $500+ investment in a more professional machine."
Leon
"49 mm tamper is what I am using, although it is slightly smaller, as I press down in the basket, it fits.
I have used this for about a week. I got my money worth and more. I am new to the game. But I will save up slowly for a top-notch one.
I have a Keurig, and my wife said its more watery. But when the espresso steams, man, its so much richer, 4 shots, and we are wired. Not sure if I need to upgrade, but as I put 5 bucks aside forever 4 shots, I will eventually upgrade, and then take this to my office.
Also…I watch a few videos. And as of right now, I don't know what espresso should taste like, but for me, this model is sooo good. And I will save and be mesmerized when I upgrade. But so much better than my Keurig. One thing to mention. I spent 6.75 on a bag of espresso.
Still, have a lot left. And loving it. Saved so much money."
Best Espresso Machines Under $100 Comparison
These three products all have their positive points. Each represents a type of the best espresso machine under 100 dollars that is currently on the market. Each one has a similar warranty. They are all around the same size on your counter-top. Which one is best for your household is mostly a matter of taste and your budget. Let me explain.
The Nespresso Inissia Espresso Maker is the most expensive of the three machines. It also requires you to use one brand of coffee capsules in it. The other two machines allow you to use any type of ground coffee. This machine is also the easiest to use. You will never need to tamp the grounds or clean out a filter. Just pop your capsule in and it makes a cup of very good espresso.
The second most expensive machine is the Mr. Coffee ECMP50 Espresso Maker. This machine is also the most professional looking machine. If you are like me and like to impress your guests, this is the machine that has the looks to do just that. The other two machines are much more home-friendly in design. With these looks also comes great drinks and versatility. It is easy to make fancy frothy toppings for two in just a few minutes.
The last machine, the Mr. Coffee ECM160, is the least expensive. It makes coffee that is almost as good as the other two machines. It can also make the most espresso at once, a whopping four shots. It also is the slowest of the three machines. It uses steam, not a pump, so you will have to wait for your machine to be ready to brew. But, like all good things, the wait is worthwhile. The steam produces a good classic cup of Joe. That same steam can also froth milk for a nice presentation if you want to share that is.
| | | | |
| --- | --- | --- | --- |
| Image | Product | Price | Rating |
| | | $$ | 3.0/5 |
| | | $$ | 4.2/5 |
| | | $$ | 3.7/5 |
In Closing
Each of these three machines has a slightly different take on how to brew up a great cup of java. If you want a machine that comes with its own measured capsules of coffee and a no mistakes attitude, then you will like the Nespresso Inissia machine (Buy It at Amazon Now!). If you are looking for a fancy machine that makes great coffee while impressing a guest, go for the cafe looking Mr. Coffee ECMP50 (Buy It at Amazon Now!). If you are living the starving artist lifestyle, and want to make lots of espresso at once, then you'll love the Mr. Coffee ECM160 (Buy It at Amazon Now!).