Coffee connoisseurs know that getting great tasting espresso or other coffee shop drinks can become very expensive. Like most people, I'm on a budget. I want to be able to enjoy my favorite drinks while not breaking the bank. I needed to find the Best Espresso Machine under 100 dollars for my home.
These three machines offer the best value at this price point. Each one has pluses and possible minuses. Each one is well made. With the right care each machine will give its owner many years worth of delicious coffee. Each machine would also make a great gift. Let's take a look at these machines.
Three of the Best Espresso Machines under 100 Dollars
Glass
Steam
8 x 6.5 x 10.5 inches
7 pounds
Black/Silver

Plastic (Material)
Semi-Automatic
12.6 x 4.7 x 9 inches
5.3 pounds
Black, White, Red, Silver, Pacific Blue, Titan (Color)

Aluminum
Steam
11.4 x 13.7 x 13 inches
1.2 pounds
Black

Nespresso Inissia Espresso Maker in Black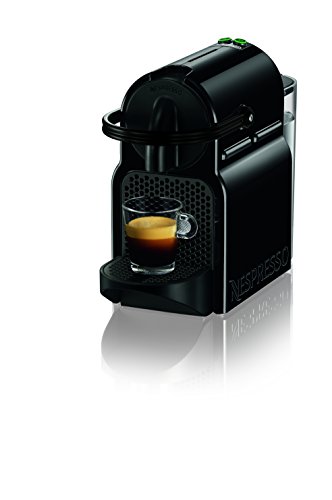 This great little machine measures 12.6 inches tall by 4.7 inches wide and 9 inches deep. It weighs a little more than five pounds. It has a sleek-looking black plastic body with silver accents. It comes in many other colors to fit nearly any décor.
This little machine has a lot to offer. One of my favorite things about it that it has no warm up time. It makes getting up with your first cup so much easier! All you have to do turn it on and pick your beverage. It comes with a typical limited warranty.
Features:
Uses Nespresso Capsules. These are easy to insert and remove. The brewer even has a used capsule container that holds up to 11 capsules.
Very energy-efficient. It has a Class A energy rating with an auto shut off after nine minutes.
Has a Compact Brewing Unit. Very fast preheat time of 25 seconds. It has a 19 bar high pressure pump.
Removable 24 ounce water tank.
Adjustable, can use tall or short glasses.
Two programmable buttons for lungo or espresso.

---
The Mr. Coffee ECMP50 Espresso and Cappuccino Maker in Black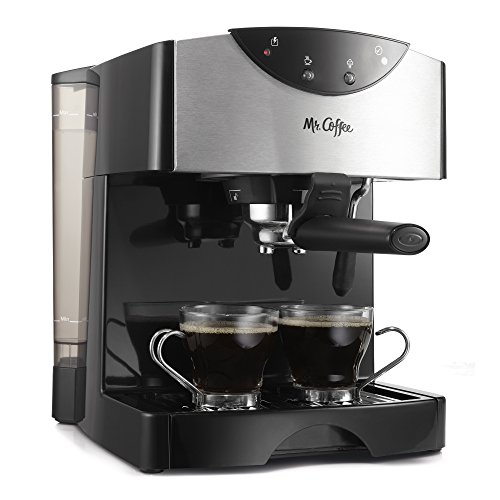 This machine is reasonably sized at 11.4 inches tall by 13.7 inches wide and 13 inches deep. It weighs a little over one pound. It comes with a standard one year limited manufacturer warranty. It truly is a kitchen barista.
The ECMP50 features single and double cup Portafilters, complete with a tamping tool to level out your coffee grounds. You can use any grounds you'd like with this machine. It can make full-bodied espresso, creamy cappuccino and the perfect latte.
Features:
Professional looking black and silver design.
Can brew two single shots at once. Comes complete with both a single shot filter and a double shot filter.
Movable frothing arm to top your drinks with cafe style creamy froth.
15 bar high pressure pump for perfect espresso.
Thermal Block heating system for nearly instant brewing speed. One Touch controls for brewing and steam are easy to use.
The indicator lights are bright and easy to read.
40 ounce removable water reservoir is simple to refill or remove.

---
Mr. Coffee ECM160 Four Cup Steam Espresso Machine in Black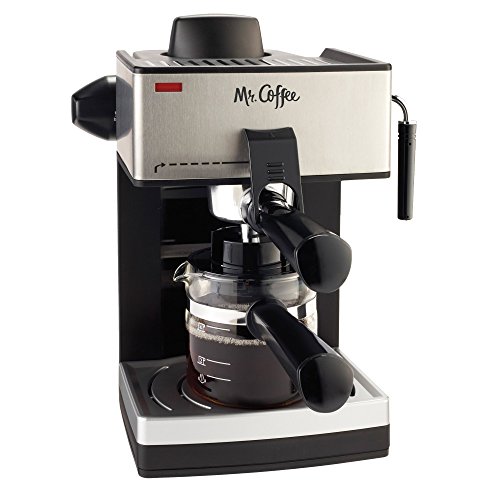 Perfect for the ultimate budget conscious coffee lover, the ECM160 machine makes a great cup of espresso. This is what you want to get if you want to make more than one shot at a time while not spending a fortune. You can make espresso, cappuccino and latte with this machine. It even has a froth arm for frothing your milk.
This machine uses steam instead of a pump to brew up coffee. It comes with a four cup glass carafe with an easy pour handle. The drip catcher is easy to clean and the machine has built-in cord storage. It is a small machine. It measures 8 inches by 6.5 inches by 10.5 inches. It weighs around five pounds. It comes with the standard limited year-long manufacturer warranty.
Features:
Long handled easy pour glass carafe holds up to 20 ounces of espresso. This is great for gatherings and dedicated coffee drinkers.
Conveniently placed frothing arm quickly and easily froths milk for creamy lattes and cappuccino.
Steam heat makes a rich brewed espresso. Steam reaches a pressure of around three bars.
Easy to clean drip tray.
Quiet operation.

---
Best Espresso Machines Under $100 Comparison
These three products all have their positive points. Each represents a type of the best espresso machine under 100 dollars that is currently on the market. Each one has a similar warranty. They are all around the same size on your counter-top. Which one is best for your household is mostly a matter of taste and your budget. Let me explain.
The Nespresso Inissia Espresso Maker is the most expensive of the three machines. It also requires you to use one brand of coffee capsules in it. The other two machines allow you to use any type of ground coffee. This machine is also the easiest to use. You will never need to tamp the grounds or clean out a filter. Just pop your capsule in and it makes a cup of very good espresso.
The second most expensive machine is the Mr. Coffee ECMP50 Espresso Maker. This machine is also the most professional looking machine. If you are like me, and like to impress your guests, this is the machine that has the looks to do just that. The other two machines are much more home-friendly in design. With these looks also comes great drinks and versatility. It is easy to make fancy frothy toppings for two in just a few minutes.
The last machine, the Mr. Coffee ECM160, is the least expensive. It makes coffee that is almost as good as the other two machines. It can also make the most espresso at once, a whopping four shots. It also is the slowest of the three machines. It uses steam, not a pump, so you will have to wait for your machine to be ready to brew. But, like all good things, the wait is worthwhile. The steam produces a good classic cup of Joe. That same steam can also froth milk for a nice presentation, if you want to share that is.
In Closing
Each of these three machines has a slightly different take on how to brew up a great cup of java. If you want a machine that comes with its own measured capsules of coffee and a no mistakes attitude, then you will like the Nespresso Inissia machine (Buy It at Amazon Now!). If you are looking for a fancy machine that makes great coffee while impressing a guest, go for the cafe looking Mr. Coffee ECMP50 (Buy It at Amazon Now!). If you are living the starving artist lifestyle, and want to make lots of espresso at once, then you'll love the Mr. Coffee ECM160 (Buy It at Amazon Now!).