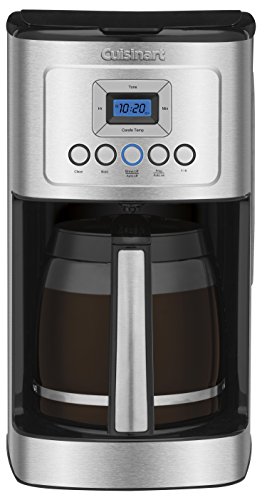 Coffee is one of those drinks that some people can't do without. Some of us are just satisfied to get a cup from the coffee machine the moment we get to the kitchen, while others are always on the lookout for that perfectly brewed coffee that stays hot for hours. This brings us to our discussion on coffee machine, Cuisinart DCC -3200 to be specific.
FEATURES
Has almost all the features you would wish for in a coffee maker. There is simply no feature available that you won't find in Cuisinart DCC-3200, something that has earned it so much praise from its users. These features include: 24 hour timer, zero to four hour auto-shutoff, 2 brews strength setting for bold or regular and settings for 1-4 cup quantities. There is also an alert tone that can be easily silenced if you don't want the machine making more noises than it has to. Additionally, this 14-cup coffee machine has also been lauded for its fully programmable feature which allows you to pre-set it 24 hours in advance. Some of its other amazing features include: 14-cup glass carafe, gold tone permanent filter, BPA free design, brew pause feature and 1-4 cup setting which enables you to choose how much you want to brew.
Reviewers have given this coffee maker high mark all across the board with others stating that they purposely purchased this machine for its numerous features and its ability to produce high quality coffee.
Easy to use
It is a fairly simple coffee maker despite its whistles and bells. In fact, all the coffee makers under the Cuisinart DCC line perform fairly well in this regard. Some users have criticized its controls stating that they are a bit tricky to figure out. Other reviews don't seem to have any issue with the controls though, in fact, some have praised its intuitive buttons. Most Cuisinart DCC-3200 user were also impressed with backlit LCD display which is large, clearly visible and easy to read which in turn makes it easy to program. The water reservoir which is located at the top of the machine has however received some criticism with some reviewers stating that the carafe leaks water particularly when they are pouring it in.
Appearance
Cuisinart DCC-3200 oozes class in every part and section of the machine. It is pretty tall, approximately 17 inches. Some users have criticized this, stating that they are not able to place it in the location they prefer since it does not fit in their cupboards. However, despite its height, it also boasts of a rather small foot print for a multi-featured drip coffee machine and has been praised for its small size which makes it occupy small space on the counter top as compared to other coffee makers. Cuisinart DCC-3200 is made of stainless steel that appears light black in color.
Performance
In terms of performance, Cuisinart DCC 3200 is rated excellent and has been proven to meet the standard brewing temperature of 1950 – 2050 Fahrenheit for 5 to 6 minutes. These are the ideal optimal temperatures for brewing good-testing and high quality coffee. Most owners of this model have commended this feature, particularly those who love their coffee served hot. It has also been lauded for sweet tasting coffee it produces. It also rated highly for its quickness in brewing a full pot of coffee.
PROS
Strong warranty coverage
Easy controls (easy to use)
Durable and quality craftsmanship
Magnificent design, classy finish
CONS
Brewing process will have to complete before you pour your first coffee
Too tall compared to some coffee machines
Slightly expensive
REASON TO GET IT?
Its classy hence blends in well in modern kitchen
Brews quality and tasty coffee
Has all features you would wish for in a coffee maker machine
Easy to maintain and is also durable
CONCLUSION
This Cuisinart coffee model offers good value for money especially when it comes to price to features ratio. Gold tone permanent filters, programmable timers and settings, fully automated and the list of good things goes on and on with only a few drawbacks. This is one of the best coffee maker on the market for a modern kitchen. I would definitely recommend it to anyone looking for a coffee maker equipped with a cutting edge technology.